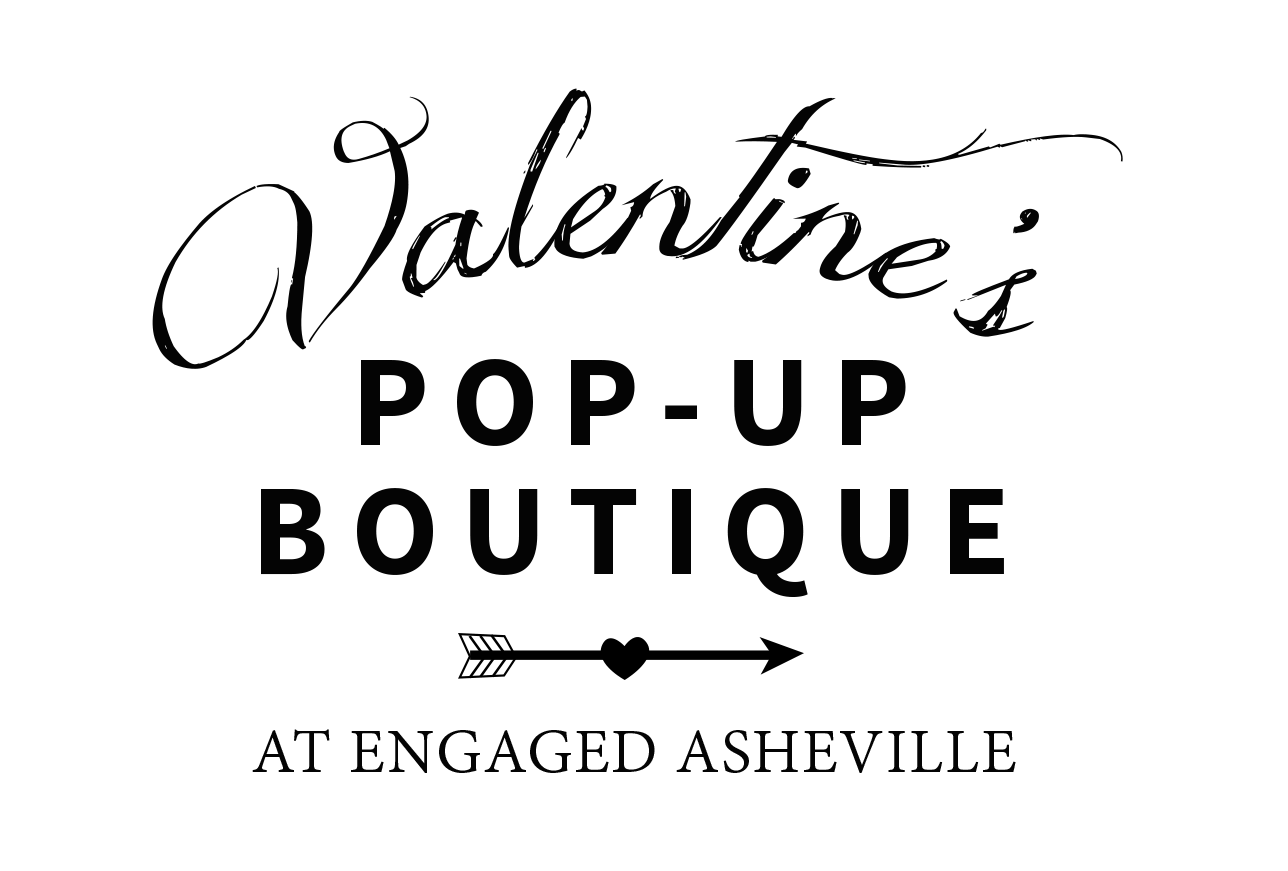 GENERAL
Amber Hatchett and Sarah Hooker are working closely with Engaged Asheville for this event. It's a beautiful space, and we can't wait to design this pop-up boutique within it! If you have any questions, please reach out to us at [email protected]. There is also a Facebook event page that, in addition to other marketing, we'll be promoting and updating.
FEE
The fee for participating in the Valentine's Day Pop-Up Boutique is $50 plus 15% of sales. The fee and vendor info form are both due by February 5th. Please complete these as early as possible so that we can add you onto our vendor list and in promotional materials. We know our customers will be excited to hear that you're joining us!
We prefer that your vendor fee of $50 be paid via PayPal, but we will accept a check. If that's the case, send your check to:
Asheville Pop-Up Boutique
41 N. Merrimon Ave.
Suite #107
Asheville, NC  28804
INVENTORY
All vendors will be assigned a Vendor ID#. All products and services must have a tag with the price, short description, and Vendor ID#, preferably in that order and with the price being written/printed largest. We also require an inventory sheet listing all of your items and information with your business name and Vendor ID# listed at the top of the sheet. Please keep an extra copy of your inventory sheet for your records.
No booths or spaces for vendors. Drop your items off. We'll merchandise your inventory and man the shop for you both days.
DROP-OFF AND PICK-UP
Vendors may drop off items at Engaged Asheville at these times:
Thursday, February 9th: 4pm to 7pm    |    Friday, February 10th: 10am to 3pm
Vendors can pick up their remaining inventory on Monday, February 13th between 10am and 7pm. We'll have everything gathered and packaged for vendors to pickup and will be happy to help load, if needed.
If for any reason, you cannot drop off or pick up at one of these times, please let us know as soon as possible. You are also welcome to mail in your products.
PAYMENT
Vendor checks will be mailed out no later than February 24th. Along with your checks, you'll be receiving a final statement showing all transactions and a copy of all tags from products/services sold during the 2 day sale.
NC tax will be collected on all sales. Those taxes will be included in the vendors check. It will be each vendors responsibility to file those taxes collected during the sale.
Work/trade is available. Please let us know if you'd be interested in working the sale in exchange for your vendor fee. We will randomly
select vendors for the work/trade and notify them accordingly.