5 Practical Reasons to Invest in a Wedding Videographer
---
 Wedding planning is tough… you get opinions from everyone, even Great Aunt Sue who you haven't talked to since pre-school graduation. And hello budget! You only have so much money to allot to all forty-seven thousand things you've pinned on your Pinterest board. So what should you do? Think about what you want to remember when you're Great Aunt Sue's age!
---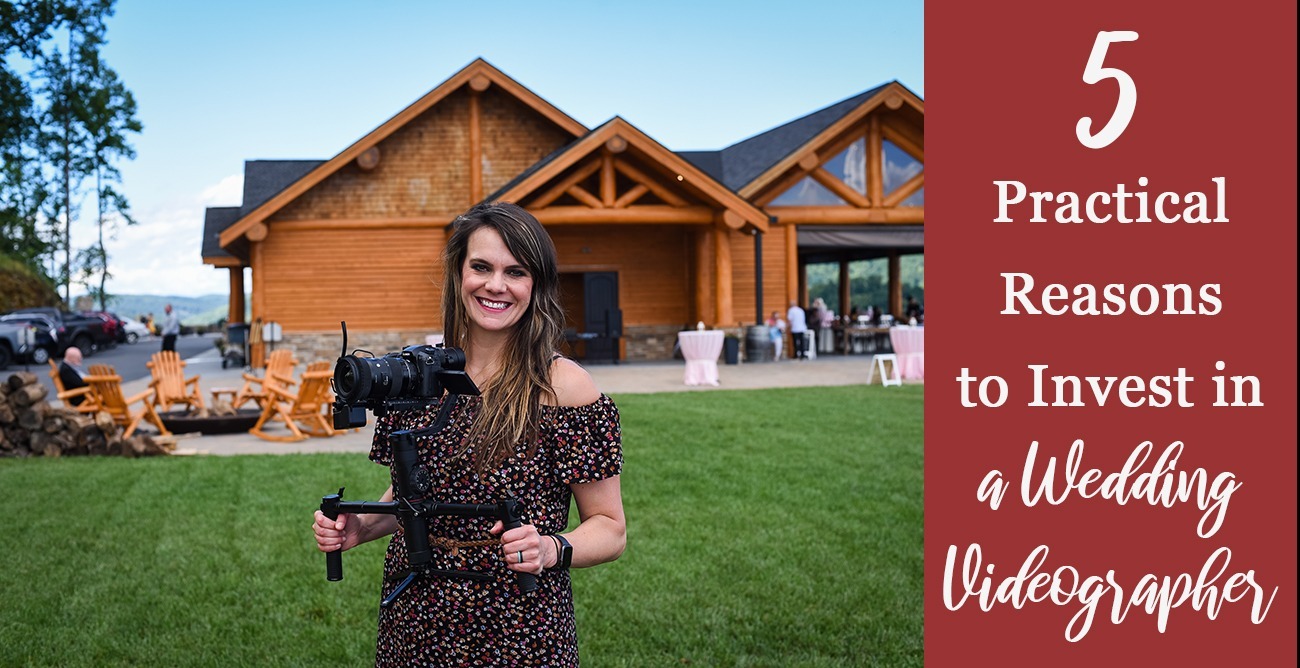 We are often contacted by brides just weeks before their wedding, because they initially did not include a wedding videographer in their wedding budget. Weddings can be expensive, no doubt. However, it's also important to make room in your budget for the things that matter most to you. Here are 5 reasons why couples should consider investing in wedding videography.
Videography captures audio. Photography is great for still frame images, however, video captures couples exchanging vows, toasts, and special messages shared by officiants. In your wedding video, you will be able to hear the promises made to each other for years to come.
Motion is captured in videography. In your wedding video, you will be able to watch your first kiss, your first introduction, and your first dance as a married couple. You will be able to see your parents and grandparents smile. You may even get a clip of your crazy uncle's dance moves making everyone laugh. As life goes on after your wedding, memories and people age, but you will always have a time capsule of people as they were on such a special day.
Videography captures the details. Your wedding day will go by fast and there are many details you may miss. As videographers, we make a point to capture details like the lace and pearls on your wedding dress, the flowers you walked past when you had your first look, and the table arrangements at the reception. These detail shots are incorporated into your wedding video to capture the essence of your day.
Videographers move around. While blending into the setting (see here how we are careful to not distract at your wedding), videographers move around to film parts of the day that you may not see. Couples will be able to watch how each other got ready for the day, brides can watch the expression of their father's face as they walk down the aisle together, and you can see your guests celebrating throughout the reception.
Relive the day through your wedding video. Not only will you be able to watch your wedding over and over to relive one of the best days of your life, but you can also share the video with family and friends who may not have been able to attend. Great wedding videos make people feel like they are at the wedding. Grandparents, friends and family who want to attend but are not able to be present can watch and feel like they didn't completely miss your special day.
If wedding videography is important to you, consider making room in your budget. Invest in what's important to you as you plan your wedding. Consider cutting out things you and your guests won't really miss at the end of the day. Maybe you don't splurge on over-the-top centerpieces or you offer a buffet instead of a plated meal. Invest in what you will treasure the most after your wedding day has come and gone and what you want to remember from your day.
See what Wildwood Media has to offer for your investment in wedding videography.