The Wedding Trends of 2018
Emerging 2018
Wedding Trends
With over 25 Creative Team members, Engaged Asheville sees a lot of weddings. From outdoor and modern, to indoor and rustic our business owners get a chance to work with almost every style imaginable. Today they're dishing on the things that they're noticing are a common request from 2018 brides!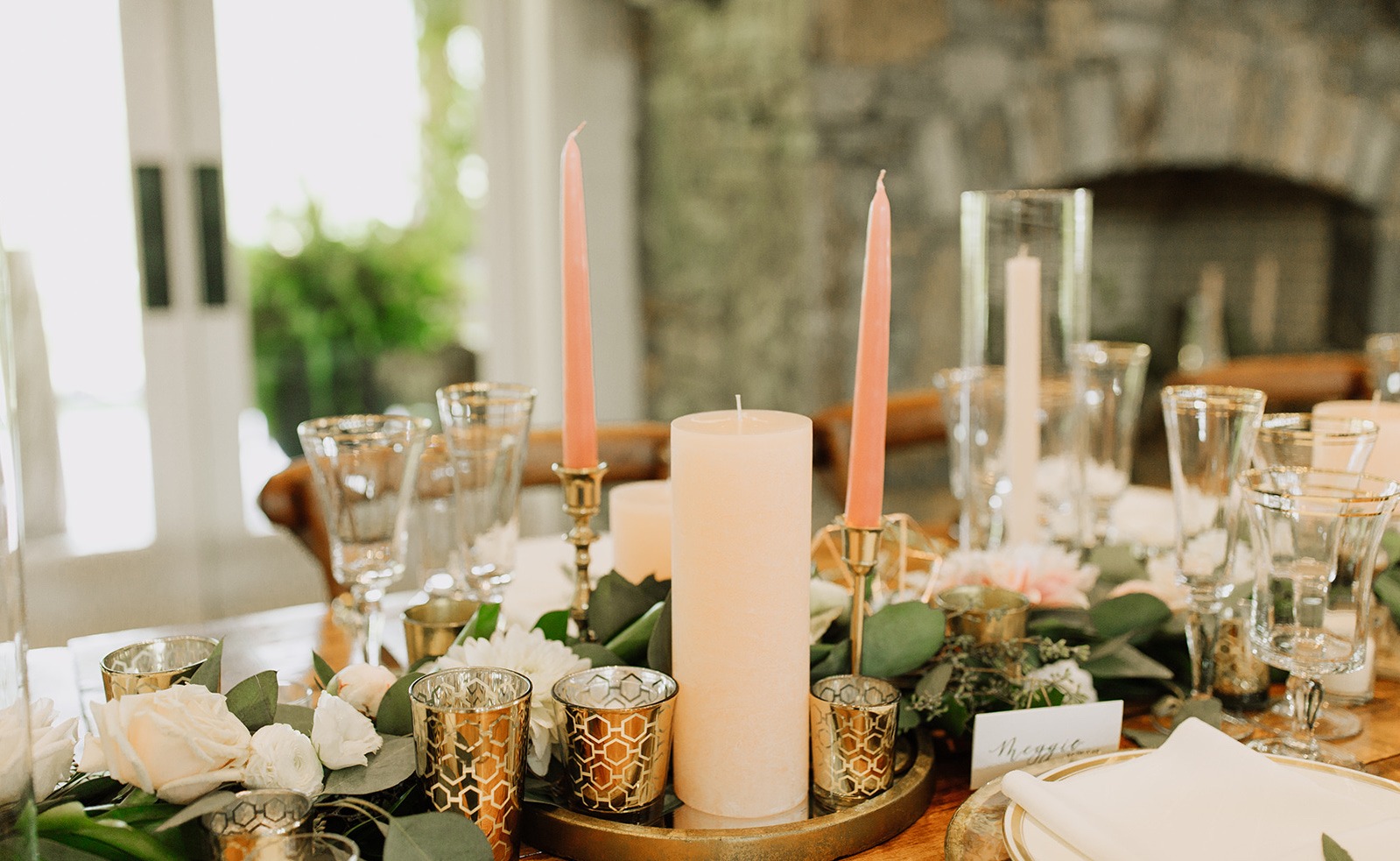 Colored Candles & Dusty Blue
From our favorite team of planners at Mingle Events, they say colored candles are hitting it big this year! Whether the entire ceremony is filled with them, or reception tables are elegantly lined, candles are always a beautiful choice. Think about adding in an accent color to help tie smaller details into the overall look of your big day! Another common thread? Dusty blue get ups! From bridesmaids dresses to groomsmen accessories the color is getting noticed!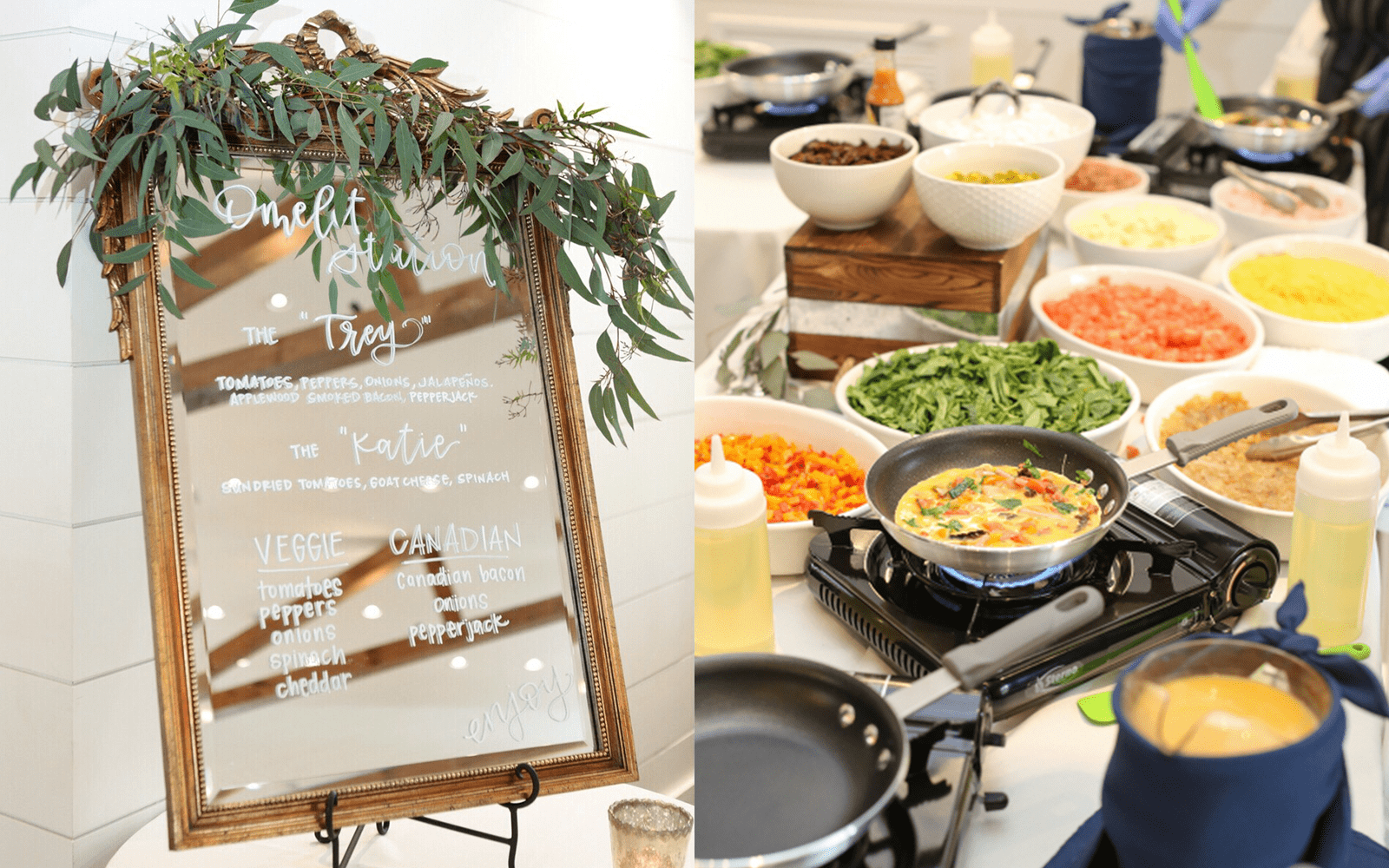 Say Bye Bye Buffet!
Corey Marino of Catering by Corey has noticed an uptick in requests for food stations, plated or family style dinners! While last year's popular buffets still occur, she thinks that 2018 couples are opting for a more intimate food experience with interactive service! Food stations don't have to be boring either… we loved the brunch pictured! A custom omelette bar with specials named for the Bride and Groom?? Sign us up!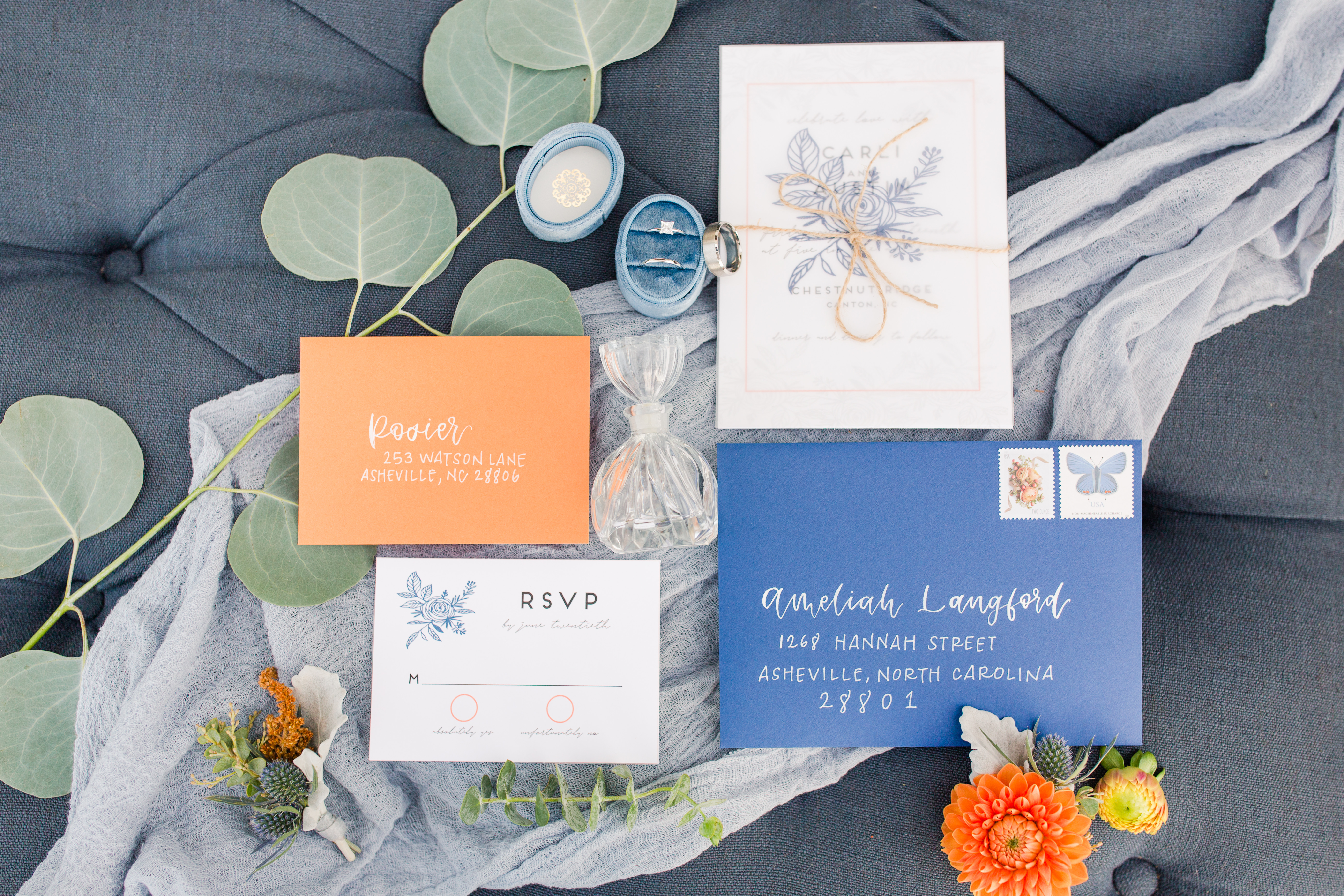 Modern Lettering & Florals
From Bethany of Joy Unscripted: "All things gold-framed mirrors and a shift towards modern!! And by modern I mean the requested lettering style! I have not been asked to do much traditional flourishing yet this year, and I can't say I'm hating it!! All of my brides have loved the bouncy and even "messier" calligraphy that feels more like impassioned declarations than perfectly staged planning. I love that my couples have paid special attention to the details that make their day special to THEM, not just what they think other people want! As far as invitation suite designs, couples are loving bolder, less traditional color schemes! Opting for things like maroons and navy! Also seeing a bunch of orange elements…. love what every new season brings us!"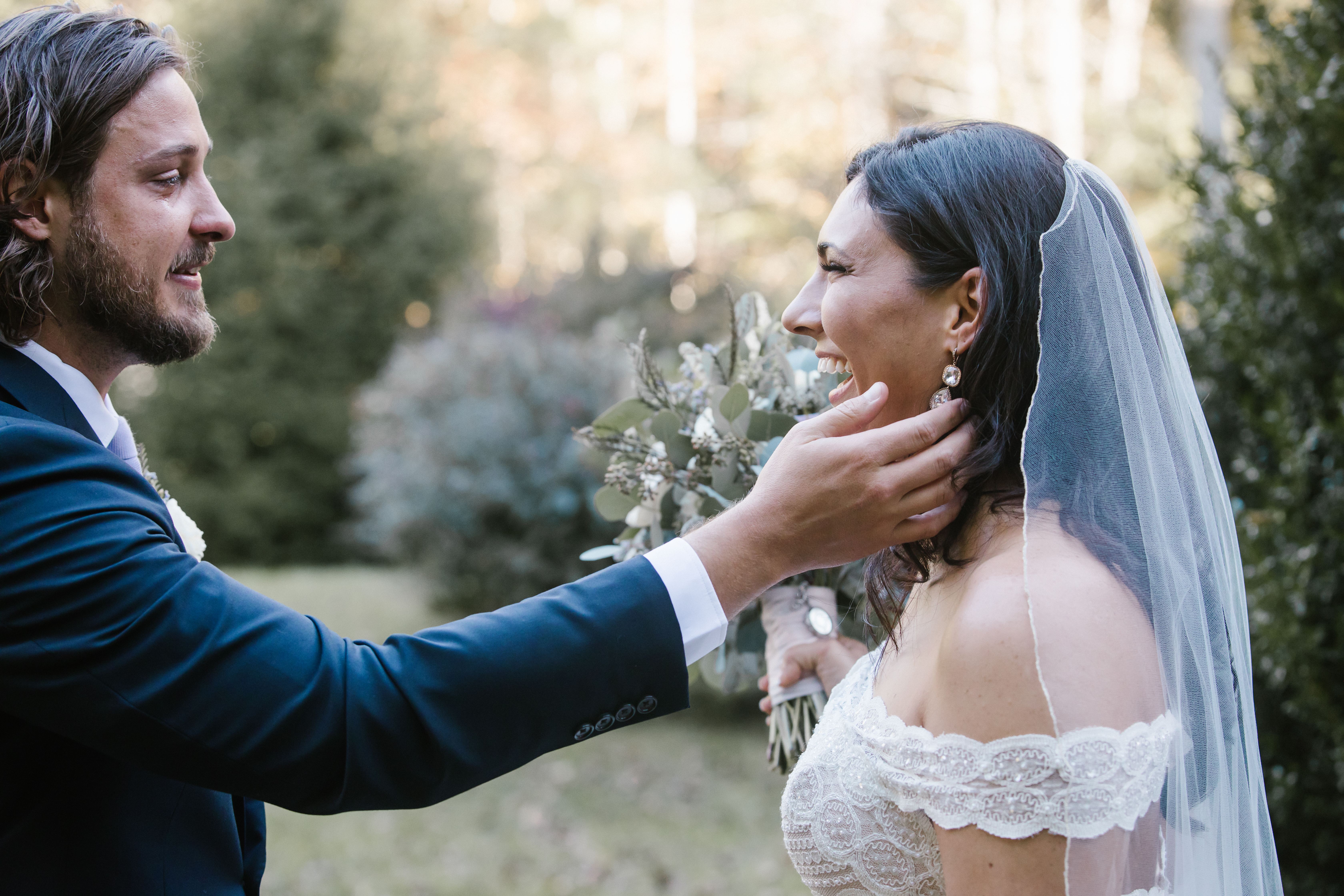 Sharing Behind the Scenes
It used to be all about the perfect shot… and by perfect we mean planned, staged and posed! But so far in 2018 Photographer Kathy Beaver has done more and more behind-the-scenes, real-life shots showing the personalities of the wedding party! And don't forget about those genuine tears shed by the groom during first looks! She knows it can be challenging for a couple to invest in photography and not plan everything… but seeing the raw emotions of those candid moments send them right back to the moment all over again! Another thing is the timing of photographs… lots of couples have opted for first-looks followed by full family photos PRIOR to the ceremony! That way the bride and groom are present for cocktail hour for a little more interaction with their guests!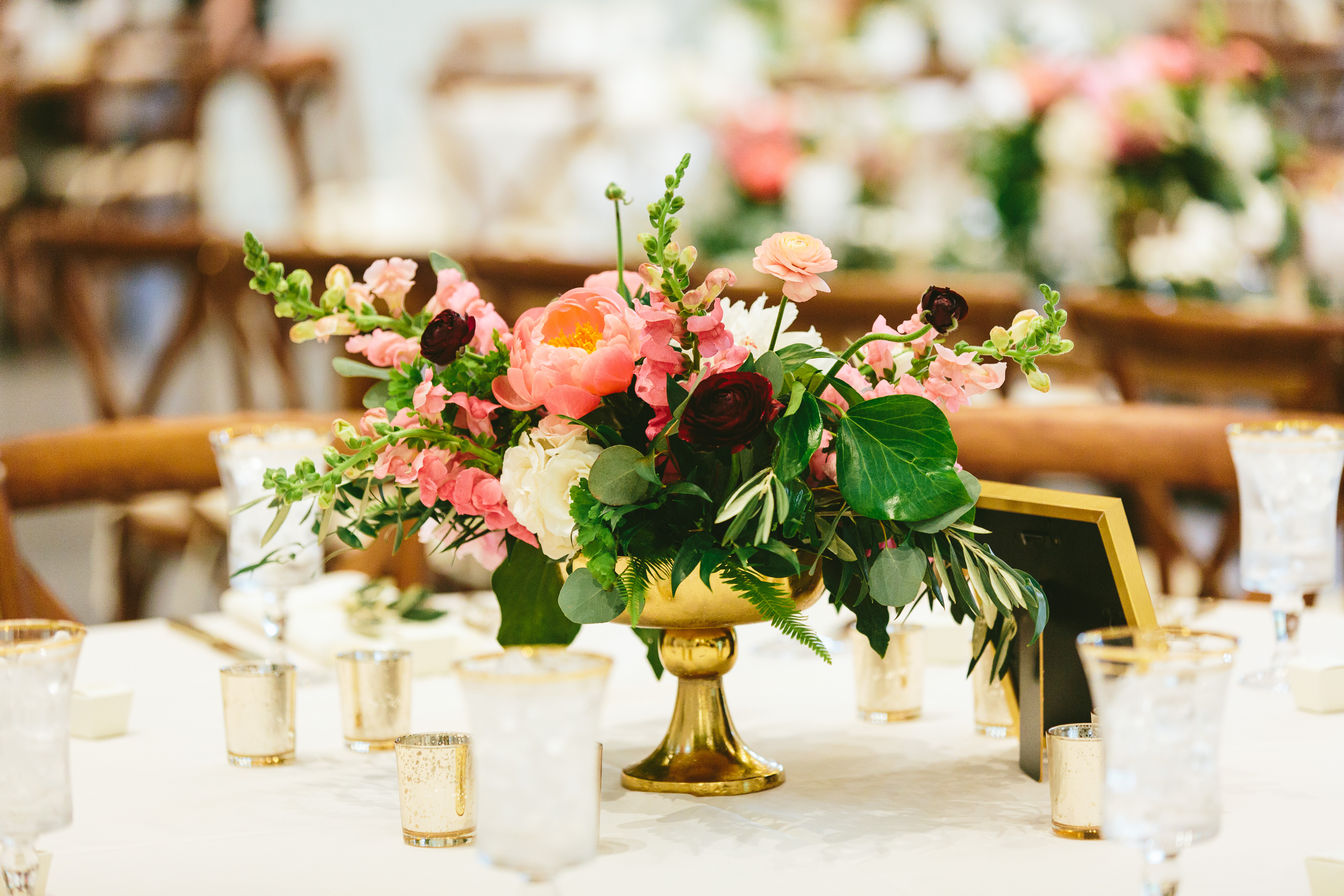 Compote Arrangements & Tall Trios
Springvine Design never ceases to amaze us with their ability to pull off ANYTHING a couple asks for. From the simplest of centerpieces to the most elaborate arches and hanging displays, Deedie and Whitney have mastered florals. This year? Tall trio greenery arrangements and pieces in compote dishes have stolen the scene!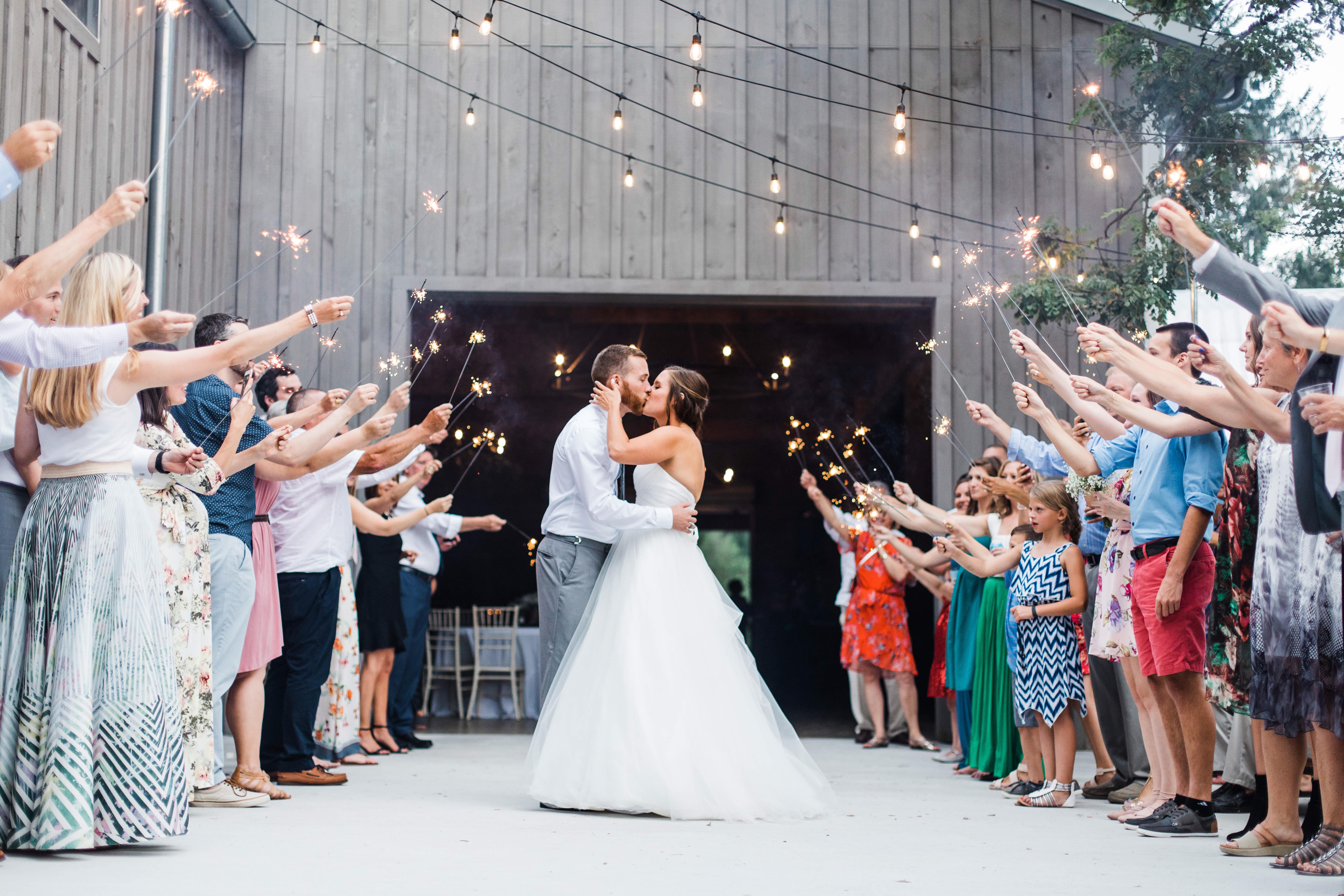 Never Going out of Style!
Some things will never go out of style… stunning exit photos, the "is he going to smash cake in her face" tension during cake cutting, that look the groom gets seeing his bride walk down the aisle… and we love it all! No matter what trends come and go this wedding season, we know that love is always in style and can't wait to see how couples choose to express it!
The Creative Team
Angela Kim Couture
The Barn at Honeysuckle Hill
Bella Sole Studio
Baggie Goose
Blossoms at Biltmore Park
Boomerang Custom Laser
Cakes by Gray
Catering by Corey
Chestnut Ridge
Collective Music Solutions
Dogwood Designs Bakery
DollBox Productions
Farm Burger Catering
Joy Unscripted
Kathy Beaver Photography
Leap Frog Tours
Melissa McElrath Photography
Mike Deserio Wedding Officiant
Mingle Events & Vintage Rentals
Pop of Color
Powder me Pretty
Sugar & Snow Gelato
Springvine Design
The Bus Booth
The Tony Townie
Wildflower Bridal