Today's bride enjoys the luxury of options.  With a world of inspiration at her fingertips, she can scroll, save, share, and Pin to her heart's content as she begins to plan her wedding.  Many brides dedicate entire boards and binders to her wedding day look.  While mining through magazines and image searches is a great way for brides to find the styles that speak to them, it can also lead to inspo overload and unrealistic expectations.
As an experienced wedding hair stylist, I enjoy helping my brides sort through the clutter of eye candy and logistics to ensure they get the look they've always dreamed of.  As diverse as brides can be, over the years I've found that they often have the same questions when it comes to choosing a hairstyle, figuring out if they have enough hair for it, and fitting it all in to their timeline and budget.
So!  For anyone who's similarly curious, I'm answering the five questions I get most often when helping my brides choose the perfect wedding day hairstyle.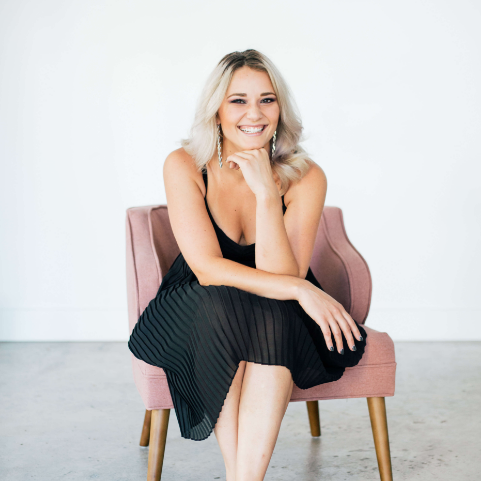 ---
Question One: Which hairstyle goes best with my dress?
Most dresses fall into two categories: intricately detailed, or modern and structured.  The former includes your lace dresses, those with heavy beading, or other lavish embellishments, while the latter applies to dresses with clean lines and a simple silhouette.  Generally speaking, here's what I suggest for matching your wedding hairstyle to your wedding gown.
If your dress is intricately detailed…Choose a softer, romantic hairstyle to play off of the dress.  A hairstyle with loosely pinned curls, face-framing tendrils, or an effortless, "undone" appearance would be ideal.
If your dress is modern and structured…Go with a sleek hairstyle. A classic bun, French twist, or chignon will mirror the clean lines of your gown. 
---
---
Question Two: Do I need extensions to achieve the hairstyle I want?
The best way to answer this question is to reword it to read: "Do I need to add extra fullness or length to my hair to get the look I'm going for?"  You know how thick or thin, long or short your natural is.  Yes, products and a trained stylist can work magic but they can only work with what they're given.  And don't take it personally: many, if not most, of the dramatic, Princess-worthy hairstyles you see are augmented by hair extensions.
I have had brides add extensions for several reasons.  Some want to wear their hair down in cascading curls and require extra length and fullness to match their vision.  Others have their hearts set on updos or intricate braids that also need additional hair to come out correctly.  I recommend showing your stylist examples of hairstyles you love for your wedding day look and let them dissect what it will take to get that look for you.  Preparing ahead of time gives you the chance to budget for the extensions, schedule a practice hair trial to be sure it's what you want (more on that next!), or to go back to the drawing board to find something more suited to your natural tresses.
---
---
Question Three: Do I need to schedule a hair trial?
The short answer: yes!  I highly recommend a hair styling trial, especially if you're unfamiliar with the hair stylist you're using. Destination brides, this definitely applies to you!
A trial will determine if you love the style you chose. Even though a certain style looks perfect on somebody else doesn't mean it's a great fit for you, or that it doesn't need adapting to your hair and features.   The biggest reason a hair trial is so important is that it allows you to hash out the details with your stylist to avoid any surprises or snafus on your wedding day.  Here's a sampling of small (but important!) details about your wedding hairstyle you'll want figured out in advance:
Do you prefer your hair fixed over or above your ears?

How much volume do you desire?

Would you like lose tendrils around your face?

Are you wanting a tight bun or something wider and more undone?

Do you prefer a bun positioned higher or lower on your head?

Do you prefer one side of your face to the other?
During the trial, I suggest brides capture a 360° photograph of their hairstyle.  Seeing how your hairstyle looks on camera will determine if it is flattering and photographs well.  Your wedding photos are forever memories and keepsakes — don't risk hating a photo because you're unhappy with how your hair looks in it!  
Lastly, a hair trial is also about testing the skills of your stylist to see if they can deliver on your chosen hairstyle.  You'll be able to tell if your energies jive and if you can communicate clearly with one another.  This way you'll get the look you want and you'll spend time on your big day with somebody you enjoy being around!
---
---
Question Four: How do I prep my hair for my wedding day?
This one mostly applies to brides receiving an updo for their wedding hairstyle.  If that is you, I suggest that you do NOT shampoo your hair on the day of your wedding!  Clean hair has a silky texture, making it difficult to manipulate into a style. Bobby pins are unable to hold on to clean hair due to the slippery texture.  One night of oil production in the hair adds back in that necessary texture to hold your hairstyle in place throughout the day and on through the night.  (And through hours of shaking your tail feather on the dance floor!)  
Set aside some time the day before your wedding to shampoo and condition your hair.  Apply moose to your hair and dry before going to sleep. 
---
---
Question Five: When should I schedule my hair appointment on my wedding day?
Setting up your hairstyling appointment for the right time on your wedding day can be most easily calculated after you figure out your makeup artist and photographer's arrival times.   
In most cases, brides should style their hair after their makeup is done.  This way, your makeup artist can brush any loose hairs aside while applying your makeup without messing with the integrity of your hairstyle.  For brides who want to wear their hair down or leave out a few tendrils to frame their face, this is especially important.
Now, consider the day's logistics with your photographer.  Just a few questions revolving around your wedding day photography package need to be answered prior to creating your hair styling timeline.  Here's what you need to think about:  
Do you want "getting ready" photos of you, your family, and wedding party on your special day?

 

How many will be with you while you get ready, and how many will be getting their hair and makeup done, too?  (Be sure and manage expectations upfront with your wedding party so that nobody tries to jump in at the last minute for a service that can't be accommodated on your stylists' and photographer's timelines.)

Will your photographer be capturing your first look and/or the bridal party before your ceremony? 
Another helpful hint: wedding planners are fantastic resources for gathering all the information necessary to establish the right timeline for your wedding day.  Not only do they know exactly what to ask and answer, but they can coordinate with your wedding vendors and be sure everybody is arriving on time without putting that stress on your plate.  (Psst…they're also great at handling bridesmaids who are notorious for throwing a last-minute wrench into well-made plans.)
---

Zhenya has been creating beautiful hairstyles in Asheville and the surrounding areas since 2008. Her experience began at an Aveda salon and graduated into her freelance business. She became recognized in the wedding and fashion community for her swift, creative updos and knowledge of her craft.
Zhenya is constantly seeking to expand her knowledge by frequently attending continuing education events featuring prestigious artists such as Guy Tang, Ted Gibson, Martin Parsons and many more. These allow her the opportunity to keep up with the latest trends in the evolving industry. You can feel comfortable entrusting your special day or event to such a skilled hair stylist who will make you look and feel as beautiful as you deserve.