There's a fantastic quote that we love around the Engaged studio: "every experience, good or bad, is a priceless collector's item."  Because while we believe wholeheartedly in our talent, we also know our wealth of experience within the wedding industry is perhaps our greatest asset.  Our brides and grooms rely on our practiced opinions and trained eyes to help guide their decisions and execute the well-laid plans they've worked so hard on in advance of their special day.
This month, we're extra excited to celebrate Corey Marino of Catering by Corey as she reaches the century mark of weddings worked and catered in her career.  With 100+ weddings under her belt (chef's coat), we wanted her to share with us — with you! — her top takeaways from all her years of experience from which couples would benefit the most.  Naturally we asked Corey to dish on the need-to-knows for catering your wedding, but we also wanted her to weigh in on the successes and mistakes she's witnessed from weddings past to help happy couples achieve their happily ever after.
So what did Corey have to say?  With her trademark sweet smile, Corey told us, "when you're planning your wedding, you've got to…"
You've got to do…
Your research.  First thing's first: see who's got it going on in the catering business wherever it is you're getting married.  Visit websites.  Read reviews.  Look at photos that show their style and presentation.  Though the first criterion to meet is "makes delicious food," you also want to choose a caterer whose menu and aesthetics match your vision for your overall wedding, and specifically for the type of food service you prefer (more on that in a minute.)
You've got to know…
Your venue.  Do they allow outside catering?  If so, do they proffer either a required or preferred vendor list?  Either way, you're going to have your options narrowed down to a handful of pros who have on-site experience at your venue of choice.  (Or, if you don't want your choices to be controlled in any way, shape, or form, you can reconsider if the venue in question is the right fit for you.)  Your venue will want to know your estimated wedding size in terms of number of guests to see if they can adequately accommodate you.  While on the subject, ask them which style of food service best suits their space to optimize your and your guest's experience on your wedding day.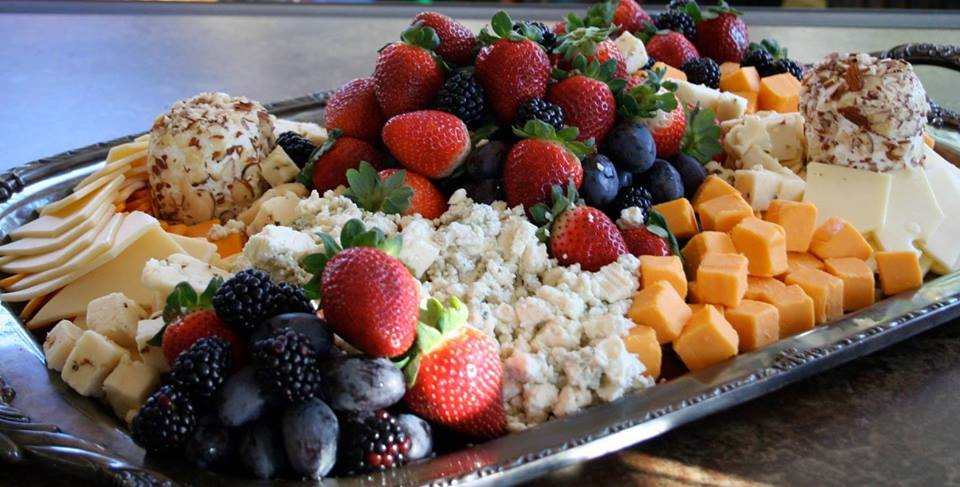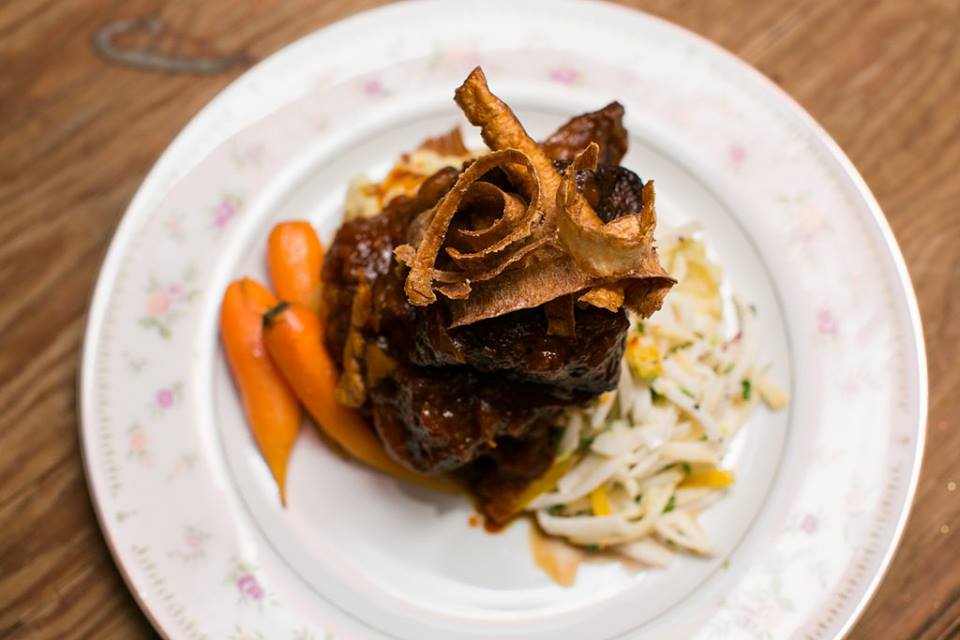 Your vibe.  On a spectrum ranging from formal to casual, there are several food service styles you can choose to suit the flow and formality of your reception.   The most formal option — a sit-down dinner — is structured and lengthy, whereas food stations encourage mingling and allow guests to eat when they're ready.  Buffets are another way to serve food in a less-formal manner, while family style dinners fall somewhere in the middle of a formal seated approach and a casual, communal experience.  Your venue coordinator will likely recommend the best or only options they can accommodate based on space for food tables, number of guests, and service staff required.  Which brings up the next "you've got to know" point, which is…
Your budget.  All food is not created equal, and I don't just mean hot dogs versus steaks.  Yes, the foods you decide to serve will have an effect on the bottom line, sure.  Beyond that, each style of food service requires various levels of staffing that can drive up the cost.  For instance, a plated dinner will cost more to cover the number of servers needed to make the dinner run smoothly and efficiently.  A buffet will cost less because it requires less labor to properly run.  Once again, a family style dinner falls somewhere in between a plated dinner and a buffet in terms of both formality and staffing.  Food stations are a great option if you want to reduce costs for labor and keep the vibe casual; however, the price can climb back up depending on how extravagant you'd like your stations to be.  (This is when that proclivity for cheese and charcuterie can be both delightful and dangerous.)
You've got to show…
Your personality.  Let your food choices be a reflection of your awesome couple dynamic and pick things that appeal to and excite you!  Who said wedding food had to be boring?  Work with your caterer to design a spread or menu that features many of your favorites as well as options for your pickier eaters.  Think about which foods everyone knows you love, like bacon, biscuits, or burgers, and have fun with it!  Put biscuits and jam on your dessert table, or set up a burger bar towards the end of the night when the band is slowing down and people start remembering how hungry they are (and how many trips they took to the bar).
You've got to hire a professional…
Wedding coordinator.  At least a day-of coordinator to orchestrate all the months of meticulous planning and hard work when it's show time.  Everyone always says "something will go wrong" on your wedding day.  Well, sometimes that's true and sometimes it's not.  What will happen is a handful of unforeseen dilemmas or decisions that need to be handled without stressing out the bride and groom.  No one should rely on family or friends to troubleshoot those situations when they should be relishing every moment of your wedding day right along with you…not working for you.
From a vendors standpoint, we appreciate a professional coordinator to captain the ship and keep the crew in line and on time.  If someone is running late, a pro planner can adapt and adjust without ever raising an alarm with the wedding couple.  A coordinator's cell phone can ring off the hook on your wedding day — but your's, or your mom's, or your best friend's?  Out of sight and out of mind.
If you think your budget can't accommodate a wedding coordinator, reach out to some anyways to see if they offer day-of coordination service.  You'd be surprised at what is included for a reasonable price.  Believe me: every bride always says it's the best money they invested in their wedding after all is said in done.  (Besides the amazing catering, of course.)
Band or DJ.  Yep, we've seen it.  Amateur musical acts, tone-deaf DJs, and friends who spend more time socializing than manning the iPod.  Music sets the tone for your wedding at both the ceremony and the reception.  A acoustic guitarist who misses his cue can create a nervous atmosphere for the bride and groom if everyone's sitting in silence.  A cousin who's got great taste in music but will be tied up taking family photos during cocktail hour or is giving a toast may not be the wisest choice for your laptop DJ.  Keeping the crowd energized and excited is a bigger task than meets the eye; leaving it to the professionals is a good idea if you want the dance floor to stay packed 'til last call.
You've got to avoid…
Getting wasted…at least prior to the ceremony.  You'd think that would go without saying but it definitely happens and it's not pretty.  Let's state the obvious and agree that remembering things like your vows, the first time you see your beloved walking down the aisle or standing at the altar, and sharing your first kiss as husband and wife are all things you'd like to store in the ol' memory bank.  Trying to drink your nerves away will only do more harm than good to you and the ones you love.
And while we're on the subject, the same goes for when you're a wedding guest.  Have fun, let loose, and take advantage of the flowing free drinks!  But know your limits.  Don't take attention away from the newlyweds by stumbling through the buffet line or causing a scene on the dance floor.  (Well…the wrong kind of scene, anyway.) An over-served guest can be the reason the bar (i.e. the most popular place in the reception hall) gets abruptly shut down and ruins the good time of their fellow, more responsible guests.  Not to mention the bride and groom may have a thing or two to say about their party getting KO'd by your bad decisions.
You've got to remember…
To take a minute just for the two of you.  Right after the ceremony, take a breath and share in the joy of what just happened — you just got married!  You've been a husband or a wife for under five minutes; let that soak in for a minute as you sneak in a few more kisses…and a quick bite to eat.  Plan for your catering company to bring the two of you a small plate of hors d'oeuvres or light bites to ensure you get something on your stomach before you walk into the whirlwind of family and friends ready to celebrate.  As a catering company, we love to provide this service for our brides and grooms not only so they remember to eat at least a little something, but so they get a chance to sample some of the fare they chose for cocktail hour that they might miss while taking family photos and waiting to make their first entrance as husband and wife.
While it is certainly easy to get bogged down or overwhelmed by the multitude of decisions that go into planning a wedding, never lose sight of what it's all for: the beginning of the rest of your life, shared with your soul mate.  As long as you remember to stay true to who you are, the rest is icing on the cake!

Catering by Corey provides the ease of beautifully crafted upscale southern wedding meals sourced from local farms and artisans. Chef Corey Marino was trained at Johnson and Wales University where she graduated summa cum laude. She then trained under many prestigious chefs at The Omni Grove Park Inn, before branching off on her own in 2013. Her love of cooking is only rivaled by the smile it creates on the faces of the people she cooks for. She adores the process of wedding catering and truly loves working directly with her clients from start to finish.
To learn more about Catering by Corey, or to contact Corey, please visit her
 profile
on our
Creative Team
page.