Mood boards, magazine clippings, bridal binders.  Ladies, we've been collecting wedding inspiration since our days in pigtails and Power Wheels.  Then along came Pinterest and we all fell right down the rabbit hole.  Then again, many of us didn't speak wedding until the ring slid down our finger and we realized we were in desperate need of Wedding 101 — You're Engaged.  Now What?
Either way, we all seek inspiration from weddings past to aid us in honing our own unique visions of what we want on our wedding day.   So why not pay it forward and share your matrimonial style with the masses by submitting your own wedding photos for publication?  After all, you spent months honing every detail from seating charts to stemware to table scapes…and, more importantly, the story behind your journey to the altar never leaves a dry eye in the house.
If you think you may be interested in sharing your wedding photos with your fave stylish wedding magazine or blog, you should work with your photographer in advance of your wedding day to be sure to capture your images in the right way. (Bonus: you'll have breathtaking photos even if you decide not to share!)  Catrina Earls, the lady behind the lens of Catrina Earls Photography and Engaged creative member, is no stranger to having her clients' weddings featured across a range of popular wedding publications.  Here are the five steps she recommends taking if you want your own wedding photos published.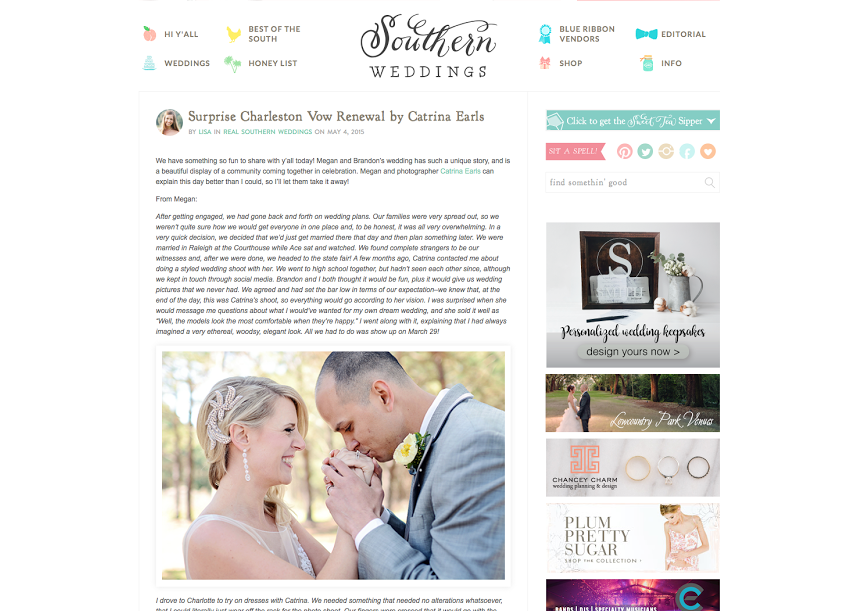 1 | Timing is everything.  The most swoon-worthy photos result from careful planning and patience.  Time of year and time of day are major factors in capturing the soft, airy light or breathtaking sunset you want in your forever photos.  Be sure to communicate to your photographer specific photos you want taken so they can create a timeline and properly plan ahead.   Lighting is most often the wow-factor that separates the good photos from the pretty ones you saved on Pinterest.
2 | Delight them with the details.  The big things – the dress, the ring, the flowers – speak for themselves but they need to be shown correctly.  Have your photographer get up-close and personal with all the adorable details of your wedding day and decor, right down to your wedding invitation.  (Photographing your wedding invitation suite is a definite must!)
You put a ton of hard work, love, and personal thought into each decision and it should show!  This ties right into the next step, which is….
3 | Think outside the box.  Pulling inspiration from outside sources is a great idea, but avoid trying to carbon copy ideas, decorations, dresses, dances, etc.  Think about what makes you and your soon-to-be spouse special and add your own personal flare! Unique details or unexpected twists on wedding traditions stand out and grab attention.
4 | Tell the Story of Your Wedding Day.  From the small details to the grand gestures and all the intimate moments in between, capture everything that made your wedding totally memorable.  Publications love to know the back story behind the big day.  For instance, did your mom make your wedding veil or are you wearing your grandmother's diamonds?  Be sure to share all the special touches that went into making your wedding dream come true.
5 | Hire the Right Photographer.  What they say is true: after months and months of planning, your actual wedding day will fly by.  You want to be sure you have plenty of quality photographs to remember it by for the rest of your life.  Investing in a great photographer is money brides never regret spending.  While researching the best photographer for you, check and see if their work has been published before and by which publications.  Chances are, their previous experiences will help ensure your wedding is appropriately captured and showcased in a way that will inspire both brides and wedding blogs!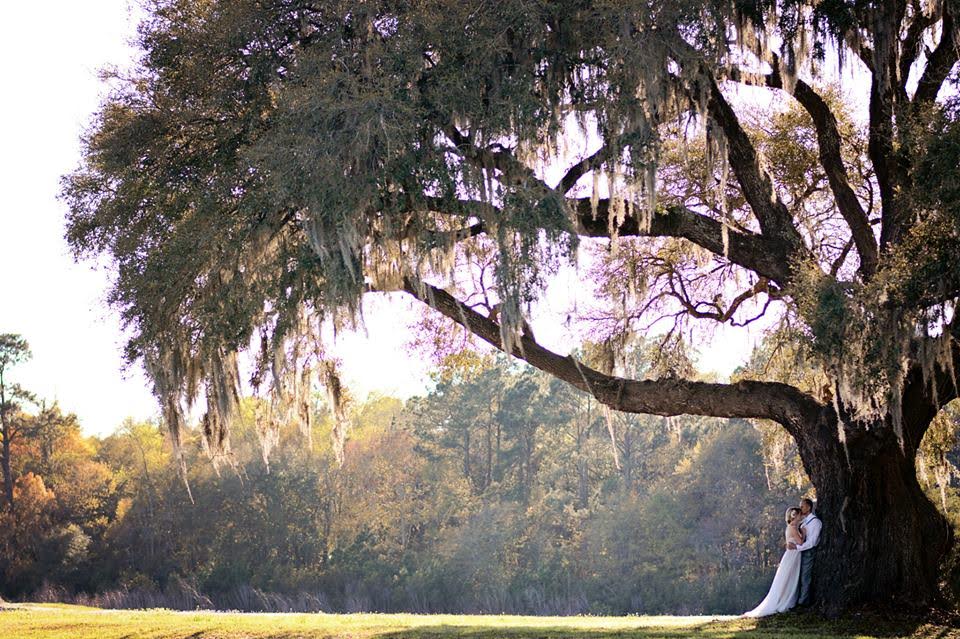 Extra Tip:  A videographer can create a short film that conveys not only the beautiful details of your wedding day, but the emotions experienced by all who bore witness to your love made eternal.  Submitting your "wedding trailer" along with your photos gives publications an opportunity to peek "behind the veil," so to speak.  Take a moment to watch Whitewash Films' breathtaking video of Brandon and Megan's surprise (yes, the bride had no idea!) Charleston wedding vow renewal!  Tissues highly recommended…

Catrina, a Charlotte-based photographer who loves salty air and mountain views, loves being behind the camera to capture life's most precious moments.  She loves turning forever memories into airy, film-like photos for her clients, whether they're celebrating an engagement, marrying their soul mates, or welcoming the newest member of their family.  Her passion is capturing the in-between moments – the moments that people least expect.  When she's not behind the lens, Catrina is busy designing invitations and such for her clients, hanging with her sweet husband and their two children, or drinking her daily Peach Snapple.
To learn more about Catrina or to contact her, please visit her profile on our Creative Team page.